Summer Reads
What is Summer Reads?
Summer Reads provides literacy services and mentorship to low-income children (primarily K-5) in schools, libraries and nonprofit organizations across Minnesota.
Mentors and Coaches bring literacy to life through a variety of activities, including one-to-one tutoring and enrichment activities, using arts and drama to explore language.
Recently, Summer Reads has expanded to include some services for adults!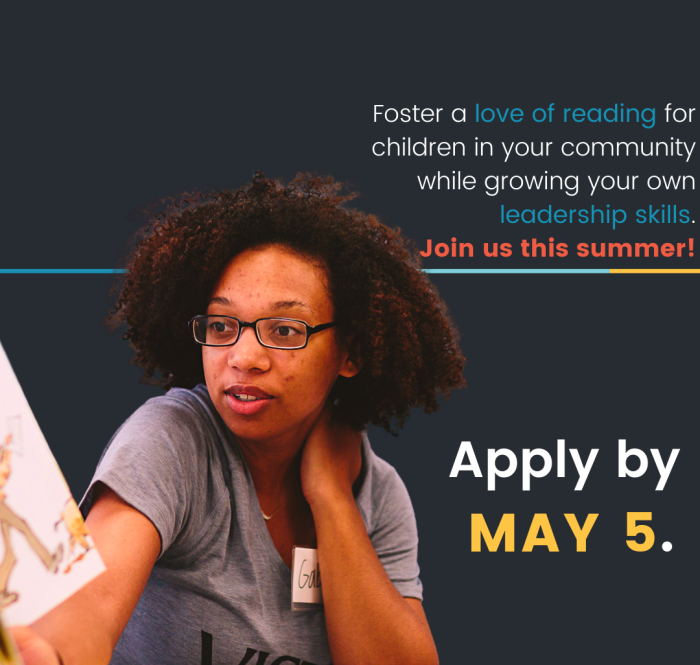 Summer Reads Mentors serve full-time Monday-Friday for 8 weeks from June 20 to August 14. Site placements are available in many locations statewide.
Benefits and eligibility
Must be 18 by service enrollment date.

Must be a U.S. citizen, U.S. national, legal permanent resident, refugee, asylee, DACA recipient, or have temporary protected status.

Must serve full-time for 8 weeks from June through August or 10 weeks for Outreach Specialists.

Choice of $1,459 Education Award or $276 post-service cash stipend.

*The Segal Education Award option is currently only available to U.S. citizens, U.S. nationals or legal permanent residents.

Biweekly living allowance of approximately $675 (pre-tax).

One-time food assistance funds.

Training and professional development.

Current public benefits will not be affected by service.

Individuals who receive unemployment benefits prior to service will still be able to continue receiving those benefits after service ends.

Click here for more information about benefits.
Apply for a Summer Reads position
Questions?
Please contact Stevie Lewis (651-251-9088).