Summer Reads
Does your summer school or community program serve low-income children entering grades K-5 who are reading below grade level? Host Summer Reads members during the summer as children's literacy mentors. 
Nonprofits, government agencies, and Tribal Nations located in Minnesota and Wisconsin are eligible to apply.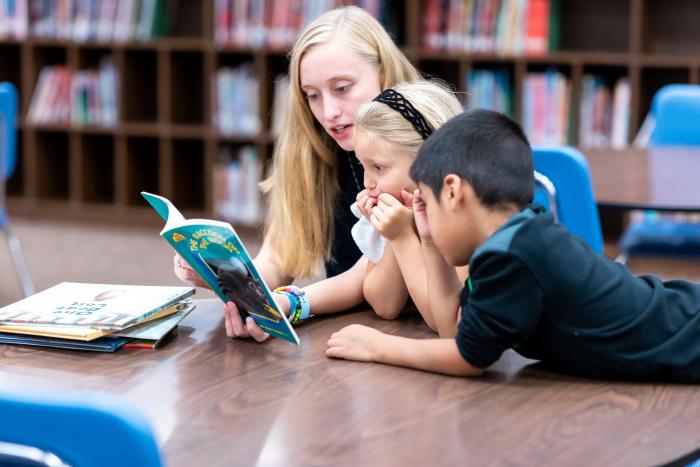 New to Summer Reads? Watch the 25-minute pre-recorded Info Session first before applying. 
1/25/21 UPDATE: Wisconsin organizations are now also eligible to apply.
Contact Meghan Paul-Cook at mpaulcook@literacymn.org or 651-251-9069 for questions. 
We are now accepting host site applications for Summer Reads for the 2021 program. 
Applications for new and returning host sites are due online by February 23, 2021. 
New host sites: please watch the Info Session and check the Frequently Asked Questions before applying. 
Returning host sites: application instructions were emailed to you in December 2020. Contact Meghan at mpaulcook@literacymn.org if you need it re-sent to you or if contact info has changed for your organization. 
Save the dates for the Supervisor Webinar:
Greater Minnesota/Wisconsin: March 9, 2:30-4pm
Twin Cities: May 11, 2-3:30pm, or May 13, 1-2:30pm (select one)
What is AmeriCorps VISTA?
AmeriCorps VISTA (Volunteers In Service To America) is a federal government national service program. It was started in 1965 as a domestic equivalent to the Peace Corps, for full-time volunteers to lead anti-poverty projects at nonprofits, grassroots organizations and public agencies. At the same time, AmeriCorps VISTA members build their own leadership, explore career paths, pay for college and become lifelong advocates for the communities they serve due to the power of their experience.
What do you mean by "literacy education"?
Summer Reads members serve in nonprofits, public agencies or Tribal Nations to work on reading, writing, oral language and/or digital communication skills with children entering grades K-5.
What are the Summer Reads members' schedules?
Summer Reads members serve full-time (average 40 hours per week) for 8 weeks during the summer. Tentative dates for 2021: 
June 14-18: Summer Reads AmeriCorps VISTA Member Orientation (mix of online coursework, live webinar, and meetings with site supervisors and site-specific orientation with host sites)
Most Fridays: half-day in-service trainings (webinars)
August 6: End of Service culminating event
August 8: Official last day of service
Host sites in the Twin Cities may host full-time or part-time; if part-time, sharing their members with another part-time site. Due to COVID-19 health and safety concerns, our priority is for full-time sites in 2021.
Host sites in Greater Minnesota and Wisconsin must provide a full-time service experience for the full 8 weeks, whether at one site location or multiple as coordinated by the primary host site.
What can Summer Reads VISTAs do/not do?
Summer Reads members can work on literacy practice in a variety of program contexts and subjects, from academic to enrichment-based, and from one-on-one sessions to large group activities. They bring literacy to life through many subjects, such as cooking, gardening, large motor recreation, homework help, tutoring, arts, drama, science experiments, and more. Summer Reads members may lead activities either in-person (with COVID-19 health and safety measures in place), through distance learning (synchronous or asynchronous), or a combination. They support the curriculum and program model of your site.
While at least 50% of member responsibilities must focus on children's literacy mentoring, you may additionally assign your Summer Reads members to work on other tasks in support of your programming and services, such as:
wrap-around basic needs support services for students and families (e.g., food support, referrals to public benefits and other community services)
parent education or family involvement
behind-the-scenes capacity-building projects that you propose 
A 5-minute video, featuring first-grader Savon at Keystone Community Services-West 7th Community Center, shows how fun, engaging and effective learning with Summer Reads can be.
What are my responsibilities as a host site?
You provide the vision and workplan for your members, orientation to your site, direct supervision and coaching of your members, and a small financial cost-share match.
Greater Minnesota and Wisconsin sites are also responsible for recruiting and selecting your Summer Reads members, with support from our staff, while Literacy Minnesota staff hires and matches Summer Reads members serving in the Twin Cities to metro area sites.
Your cost-share financial match:
$350 per part-time Summer Reads member

$500 per full-time Summer Reads member
Literacy Minnesota provides training and technical assistance to you and the members throughout the program. 
Host sites are typically awarded 1-2 Summer Reads members per site location.
Are Summer Reads members paid? What do they receive for their service?
Benefits for all AmeriCorps VISTAs include:
modest living allowance, set to the poverty rate of the county in which they serve

Education Award scholarship for future tuition or eligible federal student loan payments

service related travel reimbursement
Literacy Minnesota additionally provides our Summer Reads members:
weekly member trainings

an Employee Assistance Program

participation in the Transit Assistance Program (TAP) for subsidized rides on Metro Transit
View the Literacy Leadership 2020-21 and Summer Reads 2021 Info Sheet.
Questions?
Please contact Meghan at mpaulcook@literacymn.org or 651-251-9069.
Looking for info on how to serve? Become a Summer Reads member.
To learn more about National Service, visit www.NationalService.gov.