Open Door Book Club
July 2023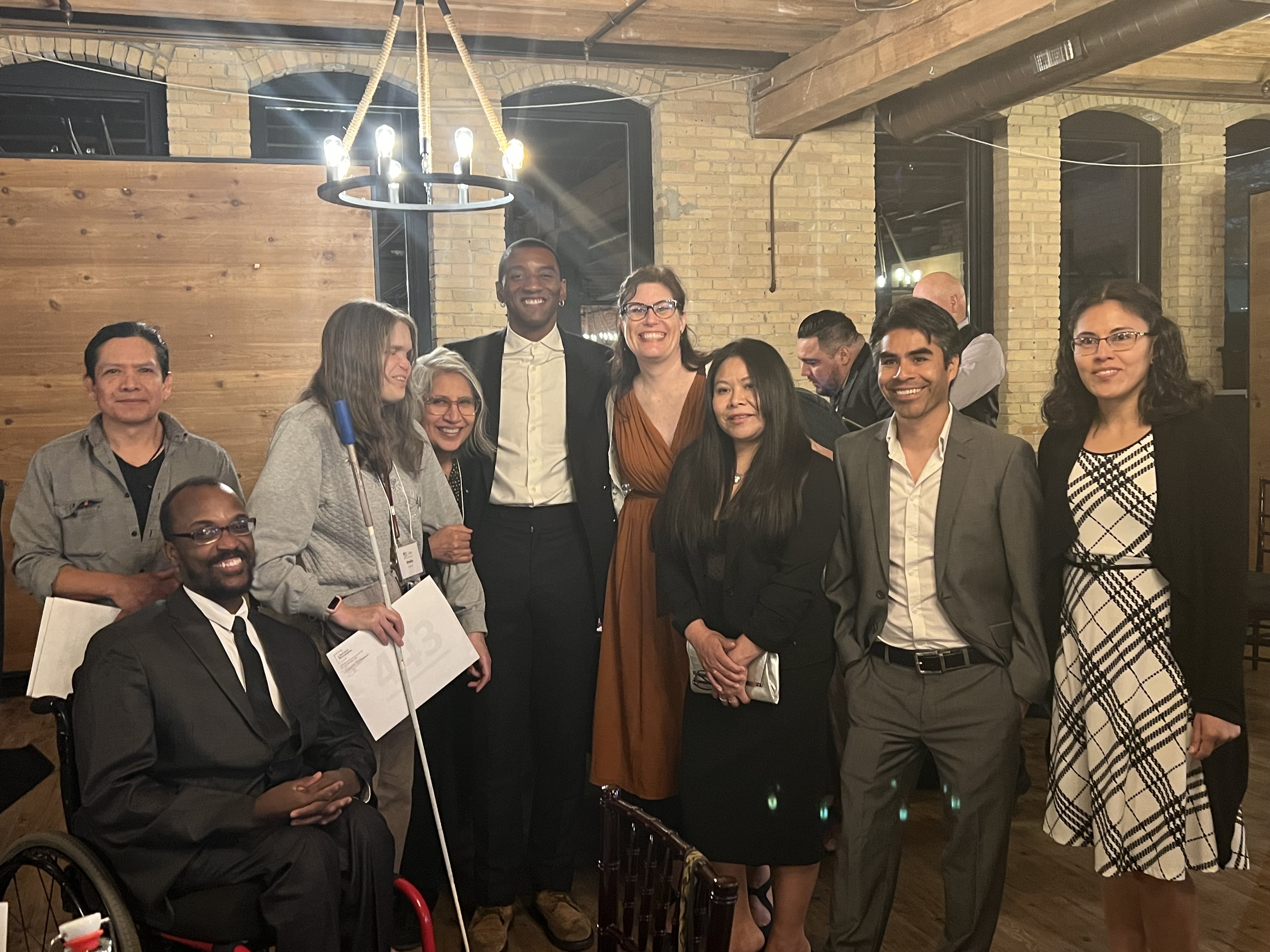 Introduction To the open door book club
by Nikki Carson, teacher and book club facilitator.
Our book club was the brainchild of College Prep learners who were coming up with ways our school could be more civically engaged. Two learners in particular suggested that students in the upper level classes voluntarily meet to read books that focus on marginalized groups. I loved their idea and proposed that if I facilitated the group and found a couple of volunteers to join us, we would make it a reality. 
The very first book we read together in the fall of 2019 was The Hate U Give by Angie Thomas. We learned so much together—with and through each other—everything from why the author chose that title in that format to what "molly" is. We watched the film together at the Riverview Theater to compare the book and film versions, and afterwards one club member was pulled over for having a taillight out. His heart was pounding, but he knew what to do. His heart was pounding. I knew then that what we were doing was important. Yes, the book was challenging to read. Yes, the book had "bad" words in it. A woman in full hijab sat across from me in the library meeting room and said, "It's okay, Nikki, we need this because this is what our kids face everyday. We want to understand." And so, we have continued. 
The learners come excited to share what they're curious about, what's moved them, what's confused them, and what's driving them to continue reading. Every month learners, their partners, and community volunteers provide book suggestions as our next reads and we vote on them. Librarian extraordinaire, Anna at East Lake Library has been supporting us since our inception by ordering books for us for prolonged periods of time. In addition, we maintain a learner-created website to inform the public about our club and invite other adult language learner reading enthusiasts.
Our lives aren't complete unless we have a bit of everything that brings us joy. Books bring me joy. Shared learning experiences bring me joy. Open Door Book Club brings me joy. Before I became a language teacher, I worked in the reference department of my hometown's public library and at our local bookstore. The first place I took my newborn daughter was the public library and it and local bookstores have been her haven ever since. Sometimes a full plate is simply jam packed with nutrition and sustenance. If I took facilitating Open Door Book Club off my plate, I'd lose a bit of joy from my week.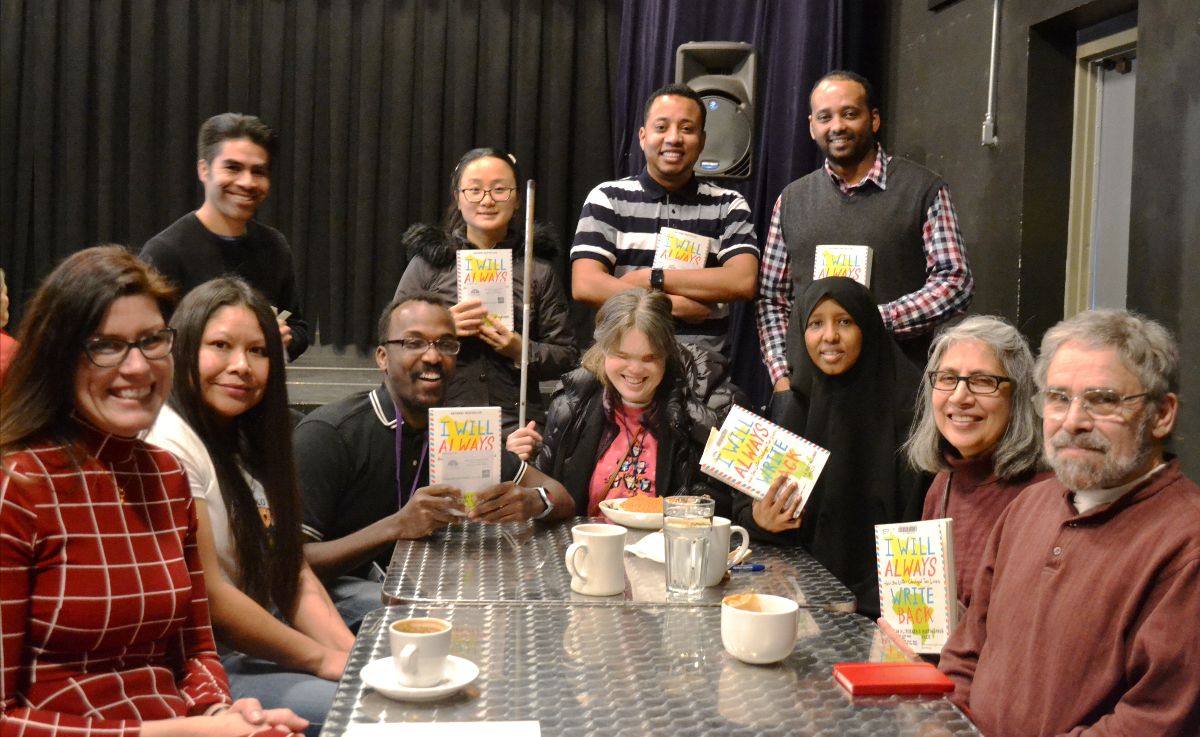 #1 - Lake Street Stories
Reviewed by Edith G.
My favorite Book Club book was Lake Street Stories because Marcela, Steve, and Teresa (three great local authors, two of them connected to Literacy Minnesota) wrote their stories about a street that has been the arteries of Minneapolis, which were torn open, like a huge wound in North America in 2020; it is still there.
#2 - Atomic Habits
Reviewed by Jorge S.
Another Book Club book that I recommend is Atomic Habits by James Clear. Atomic Habits is a guide on how to change bad habits for good ones and getting better every day by 1% using four simple steps: 1. Make it obvious 2. Make it attractive 3. Make it easy, and 4. Make it satisfying. Those are the steps to create good habits. To get rid of bad habits, simply do the opposite.
I believe in the power of small and persistent changes because I put the concept into practice in many areas of my own life, but it only works if you stick with it for many years and don't get discouraged by the speed in which it works. For example, I had a bad habit of not reading any book or any other material, but I changed that bad habit when I moved to the United States. When I began to learn English, I started learning the most common words, making short sentences, reading short texts, and watching TV. Later I started to take classes at Open Door Learning Center, reading books and continuing and only after years of practicing and the help of teachers, volunteers and classmates who contribute to my education now I can see the results. I have improved my writing, reading and speaking skills. Another good example was when I wanted to save money, I was working in construction making 700 pesos per week and I wanted to save as much as I could, so I decided to save half every week, but it didn't work because the amount was unrealistic, not consistent, and too big to keep up with. But soon I learned that saving 10% per week consistently for a long time and not being discouraged by speed works. In conclusion, small changes in my system helped me to get rid of bad habits and adopt good ones.
#3 - Because of Winn-dixie
#4 - Letter to my daughter
#5 - the distance between us
Reviewed by Jorge S.
I recommend The Distance Between Us by Reyna Grande. This memoir starts when Reyna's parents make the decision to illegally cross the Mexican border in pursuit of the American dream. Reyna and her siblings are forced to stay with their stern grandmother and wait for their parents to build a new life in "El Otro Lado," meaning the United States. But, when things don't go as planned, Reyna ends up immigrating to "EL Otro Lado," too. She lives with her father who was absent for a long time. The book captures the difficulties that Reyna and her siblings face while trying to assimilate to a different language, culture and family.
I enjoyed reading this book for many reasons; one, because I immigrated to "El Otro Lado," too and I identify with the story. Second, I'm learning to read and write in English and want to expand my vocabulary. Furthermore, the book is very well-written and very descriptive; it helps me to form a picture in my mind while I'm reading. Finally, the book helps readers to understand immigration, other cultures, and the struggles immigrants face in pursuit of the American dream and how lives can be changed forever by this pursuit.
#6 - braving the wilderness
Reviewed by Miriam C.
Braving the Wilderness by Brené Brown is a book about true belonging. It's about being brave to stand alone without having to worry about how to act, what to wear, or who to be. We often feel the need to completely change to make others happy, but that's not sustainable. Throughout my life some friends and family have excluded me, because they didn't agree or like who I was becoming. It was hard. I was just finding my voice. But it's harder to hide our true self and always do what's expected just to fit in. Reading this book felt like a warm hug and like the author says, "There will be times when standing alone feels too hard, too scary. And we will doubt our ability to make our way through the uncertainty. Someone somewhere will say; don't do it. You don't have what it takes to survive the wilderness. This is when you reach deep into your wild heart and remind yourself I am the wilderness."
#7 - a good time for the truth: race in minnesota
Reviewed by Silviano Y.
A Good Time For the Truth: Race in Minnesota is a collection of essays edited by Sun Yung Shin. This book is a forum that gives voice to real stories and memories about what it is, and what it feels like, to be oppressed and marginalized for the color of your skin or because you are different. Under the "Minnesota Nice" there are sad events and history and this anthology exposes them to address the dehumanization of communities in Minnesota.  As a Latinx and resident of Minnesota reading this book helped me to understand that we need to keep pushing to eradicate the hate and racism that has been in our neighborhoods, schools, workplaces, etc. The book club and I had the opportunity to have a conversation with one of the writers, Kao Kalia Yang, who wrote "Dark Trees in the Landscape of Love" for this. This discussion with the group made this book special to me.
#8 - That bird has my wings
Reviewed by Christian C.
I recommend the book That Bird Has My Wings by Jarvis Jay Masters because reading it made me more aware of how love and kindness have a tremendous influence in a child's life, as well as, how defenseless and innocent children living in similar situations as Mr. Jarvis can be drawn by a careless and deficient system. Furthermore, it made me believe that if we give children the opportunity and equity to succeed, this world of violence and trauma will be less endemic. 
#9 - The Last Nomad: Coming of Age in the Somali DEsert
Reviewed by Christian C.
I also recommend the book The Last Nomad: Coming of Age in the Somali Desert by Shugri Said Salh because I learned about Somali culture and the hardships a woman has to go through and endure to be accepted. One Somali proverb mentioned in this book "When an elder dies, a library is burned" made me appreciate the moments I spent with my grandparents who are no longer with me and the need to pass their knowledge to my kids and future generations. The life of the author was not easy, but she was resilient and kept looking for a better life.
#10 - The Know Your Bill of Rights Book
Reviewed by Ruth Z.
I think that Know Your Bill of Rights is a must-have book. It has history, laws, regulations and terminology that is very important for me as a citizen. For its nature and content, I would dare to say that it is a complete book by now. Obviously as the time comes and goes; there may be new rights, new laws, that will regulate the USA. Thanks to this book club, I also have a hard copy of it, and this book was also a guide to improve my English in many ways.
Thank you to the supporters of the Open Door Book Club, to Literacy Minnesota that with Nikki Carson and volunteers such as Sheila Enerson and others each Sunday are guiding us, ESL readers, to expand our knowledge and English skills. Muchas Gracias!