Meet Amir, an Open Door Learning Center Student
September 2023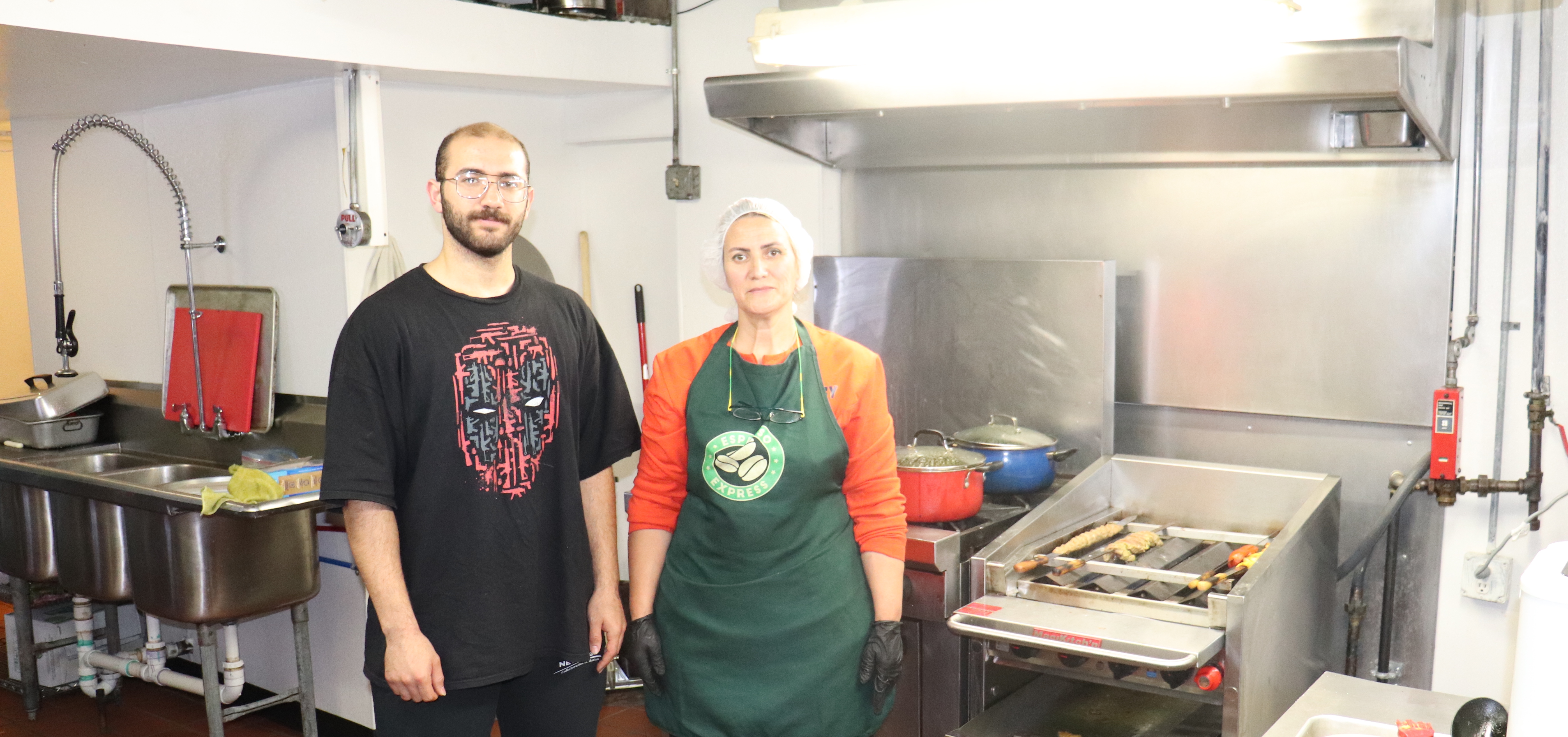 Meet Amir. Amir is a 23-year-old immigrant from Iran. He and his mother (pictured) were referred to Open Door Learning Center soon after they arrived in the United States. At Open Door Learning Center Southside, they diligently studied English and Amir also completed Open Door's Introduction to Medical Careers class. 
When we talked to Amir in 2022, his dream was to become a physician and break down language barriers in medicine. His other passion is cooking, which he learned from working with his mother in the kitchen.
Scroll to the bottom of this page to see the story we wrote about Amir last year!
Last month, Amir and his family started an exciting project: they opened a restaurant! In 2022, Amir had been helping his mother run a small catering business. That catering business has now transformed into Nader Persian Restaurant!
Nader officially opened on August 25, and you can find it on Cedar Avenue, right next to the Cedar Cultural Center. The address is 414 & 1/2 Cedar Avenue, Minneapolis, MN, 55454.
Amir's father describes the restaurant as a departure from the fast-paced, eat-on-the-go trend that dominates the contemporary restaurant scene. Nader is a place to sit, digest and enjoy your meal.
In addition to helping his mom cook in the restaurant, Amir continues his medical career aspirations. He takes courses at Normandale Community College in Bloomington. In the future, he plans to transfer his credits and pursue medical studies at the University of Minnesota. If you visit Nader for a delicious plate of kebab or beryiani, you might see Amir either in the kitchen cooking or at a table studying for a biology exam.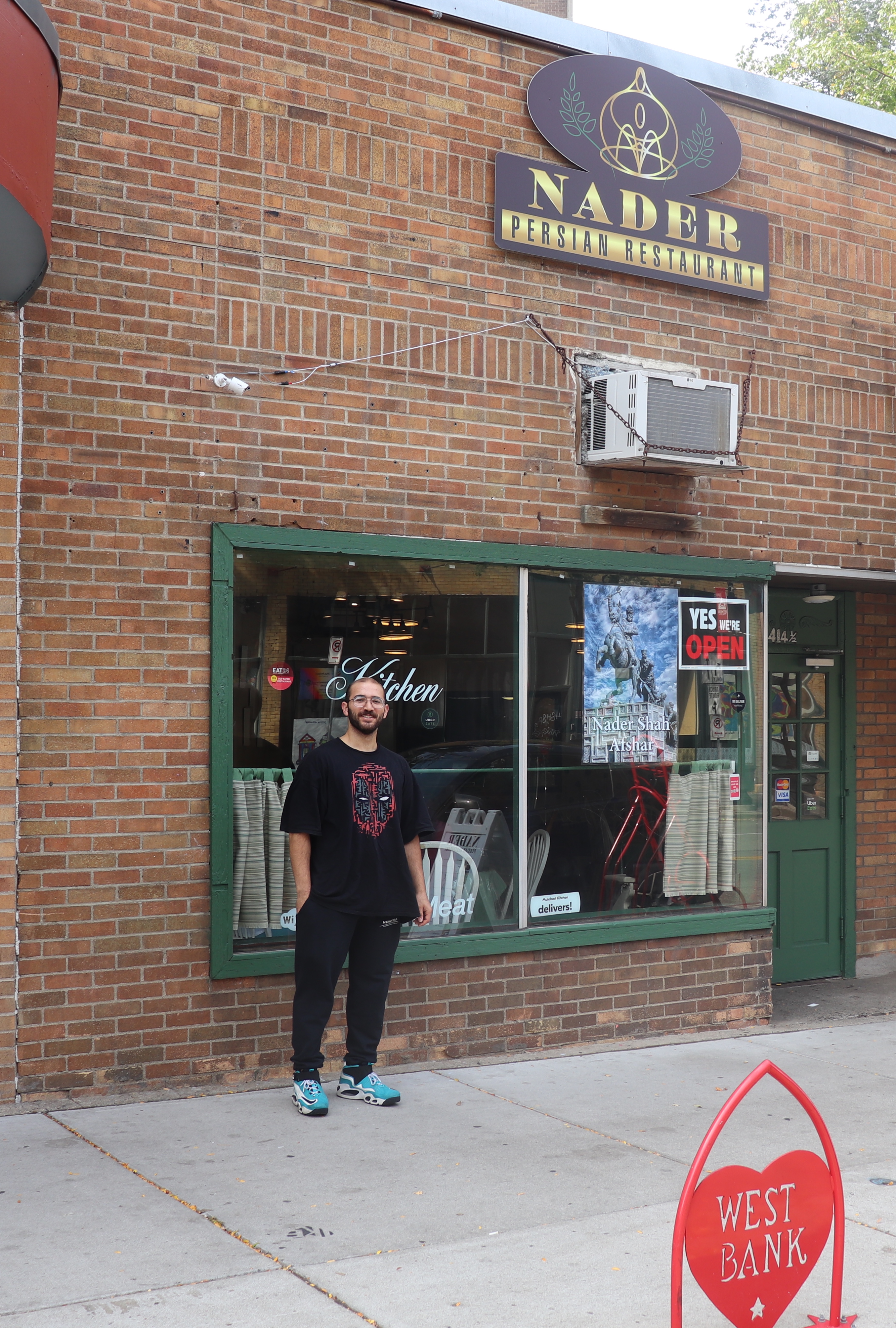 Above: Amir stands in front of his family's newly-opened business, Nader Persian Restaurant, at the intersection of Cedar Avenue and Riverside Avenue. The restaurant is named after Nader Shah, a Persian ruler in the 18th century who is generally regarded as one of the region's most influential historical figures.
Last year's story about Amir (published December 2022):
Did you know that as of 2020, one in 12 Minnesotans immigrated to the United States from an ever-changing array of nations?* 
Today we introduce you to Amir, a 22-year-old immigrant from Iran with big plans to help people from all walks of life. 
Amir moved to the United States with his mom approximately seven months ago, joining his father who has been living in Minnesota for 45 years. Shortly after moving here, Amir and his mom were referred to classes at Open Door Learning Center Southside by a family friend and have been in attendance ever since. "I like the teachers. I like the environment. We love school," says Amir with a smile. "We don't have a lot of money to pay for school and learning... so [this school] is perfect."
At 22 years old, Amir has his sights set on becoming a physician. "In my country, I studied science and got a high score for the medical university." His pre-university test scores would have allowed him to pursue this type of schooling in his home country, so he decided to reach for this goal when he came the United States.
"I am learning nursing assistance, but I also want to be a physician."
After starting English classes, Amir completed Open Door's Intro to Medical Careers class and passed the Pre-Certified Nursing Assistance exam. He is a native Farsi (Persian) speaker who also speaks Turkish, Pashto and Kurdish. Because he understands multiple languages, Amir's dream to serve as a physician will be extremely helpful to many communities of people seeking healthcare.
"Amir is incredibly dedicated, helpful and positive. He will be a light to anyone who encounters him, and the healthcare field will be blessed to have him", says Nikki, his teacher at Open Door Southside.
Amir is thankful for the program and the classmates he has met. There are no other Farsi speakers at Open Door Southside, but that hasn't stopped Amir from making connections with other learners. Since taking classes, Amir has participated in special outings, including a trip to St. Paul College and an Open Door Book Club camping trip with classmates.
Outside of school, Amir likes to go to the gym, work on his car and cook with his mom. "My mom is a chef, so I know how to cook." He shared that his family runs a small catering business out of their house. His mom leads the cooking, but Amir and his dad support her in the kitchen. "We want to make a restaurant," he says. Amir showed off his cooking skills to his Open Door classmates on the Book Club camping trip where he made sambusas and chicken kebabs for the group. 
*Reported from the 2020 U.S. Census Bureau data via the Minnesota Chamber of Commerce