Literacy Leadership
What is Literacy Leadership?
Literacy Leaders are yearlong AmeriCorps VISTA members. They help people gain the skills they need to share their stories, achieve their goals, and succeed in school, civic life and the workforce.
We offer two tracks within our program: Literacy for All and Digital Literacy.
Literacy Leaders serve at host sites, designing and carrying out literacy initiatives and projects. They come together monthly to engage in professional development.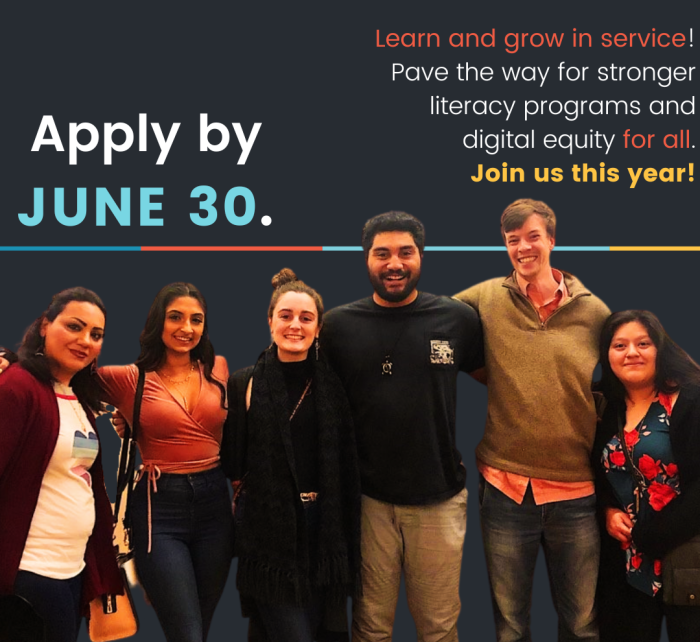 QUALIFICATIONS
18+ years old.

Able to serve full-time (40 hours per week) for one year.

U.S. citizen, U.S. National, Lawful Permanent Resident, asylee, refugee, Deferred Action for Childhood Arrivals (DACA) recipient, or have Temporary Protected Status.

Many positions require in-person attendance at host site location.
AMERICORPS vista BENEFITS
Biweekly living allowance (pre-tax), based on the poverty rate in the county of host site location:

Illinois, Minnesota, Michigan, Pennsylvania, Texas, Wisconsin: $675

VISTA Leader (based in Minnesota): $767

New Jersey: $791

New York: $1,027

Washington, DC: $925

$6,495 education award or $1,803 stipend at end of service.

$3,000 cash stipend at end of service for VISTA Leaders.

$7,900 healthcare allowance.

Federal student loan forbearance.

Relocation allowance if moving 50+ miles for service.

Childcare assistance.

Non-Competitive Eligibility after a successful year of service.

Allows you to be appointed to certain federal positions without competing against the general public.

Public benefits received prior to service are not affected by service.

Service can not trigger a work review for those receiving SSDI, SSI, Medicaid benefits, workers' compensation, retirement or other public assistance.

Individuals who receive unemployment prior to service can protect their benefits and resume receiving unemployment after they complete service.

Emergency leave and/or travel assistance.
LITERACY LEADERSHIP BENEFITS
$750 per year in housing assistance funds (paid to landlord, mortgage company, leasing agent or utility company).

$150 per year in professional development funds to pursue your professional development goals.

Monthly professional development trainings, presented with clear purpose and outcome goals.

Mentorship from seasoned professionals.

Food support in the form of either a grocery store gift card or a locally grown produce box subscription from local Community Supported Agriculture (CSA) partners during fall and summer harvest seasons.

Assistance developing your skillset and network for a career in the nonprofit or education field.

Member-led affinity group opportunities, formed with fellow AmeriCorps members or staff at the host site.

An affinity group forms around shared interests, identities, or goals.

Some affinity groups we've hosted in the past have been: BIPOC Individuals, Anti-Racism Solidarity, Professional Development, Mental Wellness, and LGBTQIA+ Community. 

Literacy Minnesota considers time spent in affinity groups and on other professional development opportunities to be AmeriCorps VISTA service time.
Additional benefits may be provided by individual host sites.
"My commitment to equity gives every student a strong start."
Keshia Anderson King, a Literacy Leader alumna, was featured in this brief video. Watch to hear from AmeriCorps members!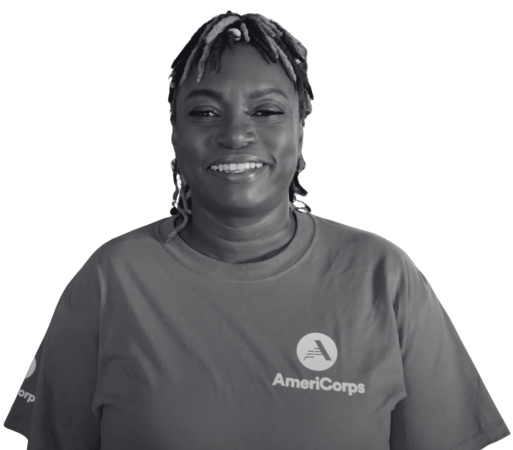 Questions? Contact Stevie Lewis.
*For FAQ on policies, resources and guidelines for AmeriCorps members related to COVID-19, please check the AmeriCorps website.