Journeys
Journeys is a book of stories.
Within its pages, you'll find memories, poems, art, tall tales and everything in between. These stories share the journeys and perspectives of adult literacy students enrolled in reading, English as a Second Language, GED, and basic skills classes across the state of Minnesota.
Literacy programs may also fill out an invoice request form to purchase Journeys.
The 2024 submissions webform is now open! Please read through the guidelines and access the 2024 submission form here: Journeys 2024 guidelines and call for submissions.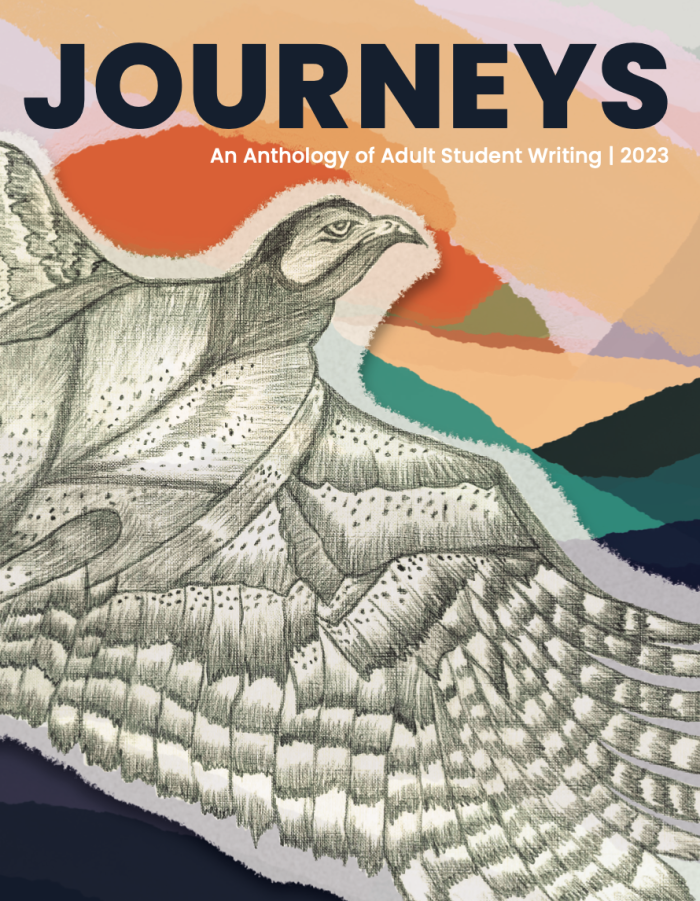 Many studies suggest that culturally relevant texts help increase students' engagement in learning. Journeys provides a text of authentic learner stories for teachers to use in the classroom. We believe Journeys engages students more effectively than other texts because it values the contributions adult students make to adult education programs and the larger Minnesota community. 
Whether you are a teacher, tutor, supporter of literacy education or you simply believe in the power of words, you will find yourself connecting to the stories in Journeys because one thing is certain: you are on your own journey. We all are. Hearing the stories of fellow travelers and learning about the struggles and victories they've had along the way, however similar or dissimilar they may be to our own, helps us to better navigate the world and find our place within it.
Journeys 2023
471
submissions
Written pieces and artwork were submitted by Adult Basic Education students from across Minnesota.
62
countries
Journeys featured pieces by authors from 62 different countries of origin, now living in Minnesota.
17-85
years old
Journeys authors spanned a wide range of ages.
29
programs
Students from Adult Basic Education programs across Minnesota contributed pieces to Journeys.